Design Field Trip x Tijuana
LA Design Festival hosted our inaugural Design Field Trip to Tijuana and Guadalupe Valley.
Last month twenty intrepid design travelers met up with design curator Illya Haro in Tijuana for a weekend of design exploration. We broke bread with some of the creative visionaries who are driving the economy, movement and change in the region and learned that there really is nothing like sitting down and sharing stories (and wine and mezcal and meroir and terroir) with other human beings.
Thanks to Illya Haro for taking us all on this adventure and to all the amazing creatives who met with us, and a special gracias to Monica Orozco for capturing it all on camera.
Check out the highlights below. The next Design Field Trip is planned for September 2019. More details soon.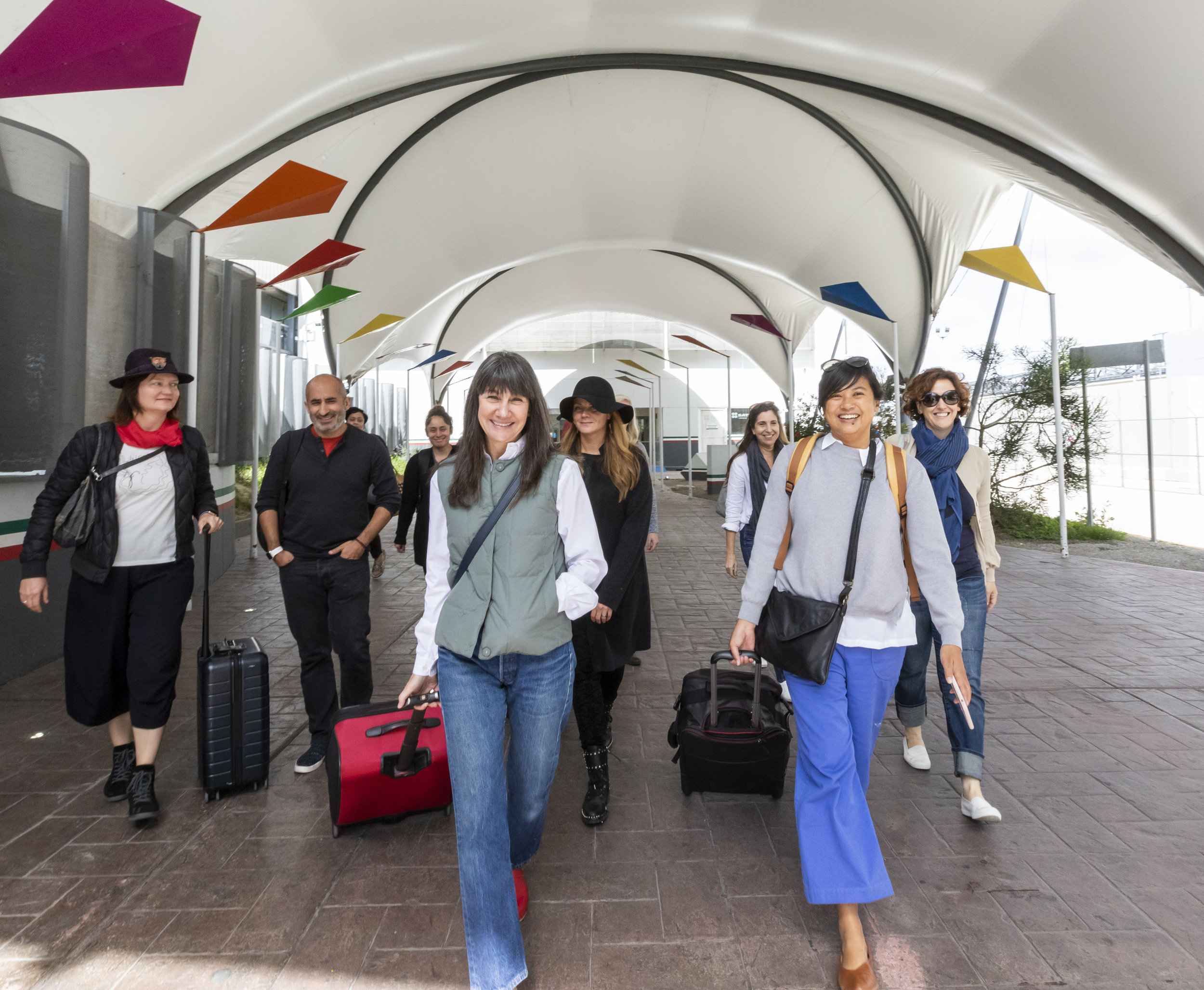 Design Field Trip x Tijuana
Our group arrives via the Ped West Border Crossing.
Curator Illya Haro
Our curators meet us in Tijuana.
Estacion Federal
All good afternoons start with coffee.
Border Wall
With all the negative press about border closing, etc. we thought it would be meaningful to take a quick trip to see the wall.
Tacos Paisano
All good afternoons continue with tacos.
OneBunk Hotel
We bunk you too, OneBunk.
OneBunk Welcome
Thanks to OneBunk for hosting us and Greg Strangman for taking the time to tell us the story behind everything.
Greg Strangman
Founder of OneBunk Hotels and LWP Group.
La Justina
Because everyone deserves two lunches.
Object
Veronica Hernandez welcomes us to her exquisitely curated 100% Mexican Made design store Object.
Escuela Libre de Arquitectura
We popped into the Escuela Libre de Arquitectura to see what they're up to.
Aaron Gutierrez and Jorge Gracia
Caesar's
We ended Day One at a historic restaurant, birthplace of THE Caesar salad.
Estacion Central
Breakfast at the most interesting former stripper club turned restaurant, meeting place, and "bus station." Beautifully designed with an amazing variety. The chilaquiles were life-changing.
Guadalupe Valley
First stop Casa de Piedra, a Hugo D'Acosta winery.
Casa de Piedra
Originally meant to be the D'Acosta home, Casa de Piedra evolved into their first winery.
Hugo D'Acosta and Daniela D'Acosta
The Mondavi of Mexico and his daughter. Huge thank you to Hugo and Daniela for welcoming us to Casa de Piedra, and introducing us to the story and history of Guadalupe Valley.
Friends of the Festival
LA Design Festival is lucky enough to have some pretty awesome patrons.
Vena Cava
A toast to an afternoon at Vena Cava.
Vena Cava
Inside the tasting rooms of Vena Cava winery, designed by architect Alejandro D'Acosta.
Vena Cava
The unique design features reclaimed boat parts.
Phil Gregory
Winemaker Phil Gregory regaled us with stories.
Bruma
The newest Alejandro D'Acosta-designed winery in Guadalupe Valley. Also an eco-resort.
Chef David Castro Hussong
The chef greeted us after an epic meal.
Birria
Because all good weekends end with birria tacos in the morning.